Besides providing various
services
we are continually developing new relevant and qualitative data products. We often use publicly accessible data like satellite images and aerial photos. In some cases, commercial data is also used. Are you interested in one of our data products, or would you like more information about which other data products we can develop? Feel free to
contact
us.
Klimaatverandering, verstedelijking, luchtkwaliteit en biodiversiteit zijn actuele onderwerpen. Voornamelijk in stedelijk gebied kan dit knelpunten veroorzaken omdat de ruimte hier schaars is. Groene daken bieden hierbij veel kansen voor klimaatadaptie en natuur. Veel vlakke daken bieden een groot potentieel aan ruimte voor groen op veelal onbenutte ruimte. Voor vraagstukken rondom deze onderwerpen is het nuttig om te weten waar groene daken reeds aanwezig zijn en welke daken potentieel geschikt zijn voor de aanleg van een groen dak. Urgis analyseert alle daken in uw gemeente op basis van openbare luchtfoto's (0.25m) of op gemeentelijke luchtfoto's. Omdat bij (hoge) gebouwen vaak een omvallingseffect zichtbaar is op luchtfoto's, corrigeren wij deze voor omvalling. Hierdoor komt de BAG geometrie gelijk te liggen met de bovenkant van het dak i.p.v. met het maaiveld.
About this dataset:
Nauwkeurig inzicht in locaties en oppervlakte groene daken/daktuinen
Linked to the BAG and / or address
Rekening houdend met omvalling
Op basis van openbare luchtfoto of eigen luchtfoto
Combinatie met potentie groene daken mogelijk
Overview of addresses with thatched roofs in the Barneveld region
More information? Download the product information flyer
National dataset thatched roofs
Urgis has developed a machine learning algorithm that detects thatched roofs in high-resolution aerial photographs. Using this algorithm, we have classified, with very high accuracy, the roof type of each individual property in the Netherlands. The thatched roof dataset can be purchased nationally and regionally. A small subset of this dataset can be seen in the interactive map on the right.
This dataset has been specifically developed for safety regions, fire brigade and insurers and is relevant for providing insights in fire hazard risks. We can deliver the dataset in different formats.. If you are interested in this data product or would you like more information, please contact us.
Why the thatched roof data product:
All locations and addresses of thatched roofs in your database.
Direct overview of risky objects fire hazard.
Relevant information for risk management and emergency response.
Supplement data product with other information, such as the purpose of use of the building and surrounding buildings, the year of construction and surface.
Direct overview of fire risk objects
Especially for safety regions, insurers and thatchers.
Op basis van de BAG voeren wij een ruimtelijke analyse uit waarmee we alle woningen in Nederland kunnen classificeren op woningtype. In deze dataset is onderscheid gemaakt tussen de volgende woningtype:
Appartement
Tussenwoning
Hoekwoning
Twee onder een kap
Vrijstaan
Geen woning
 Deze dataset kan afgenomen worden per gemeente, provincie of als landelijke dataset. Tevens zijn verschillende bestandsformaten beschikbaar en kan de data verreikt worden met andere (geo) data. Neem vrijblijvend contact met ons op voor meer informatie of een prijsopgave.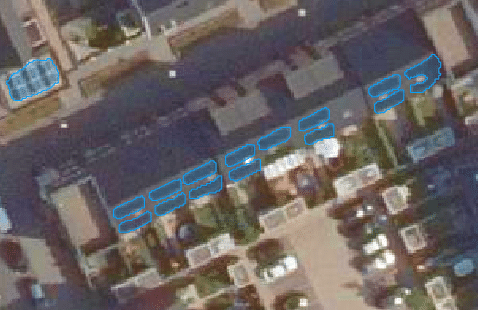 Landelijke dataset zonnepanelen
Op landelijke schaal worden steeds meer zonnepanelen geinstalleerd om duurzame energie op te wekken. De energietransitie is op volle gang en dat brengt verschillende uitdagingen met zich mee. Hoeveel energie kunnen we in totaal opwekken met zonnepanelen? Wat is de prognose? Waar staat de capaciteit van het electriciteitsnet onder druk? Door op landelijke schaal zonnepanelen in kaart te brengen kunnen o.a. deze vragen beter beantwoord worden. Bekijk
this viewer
om een inzicht te krijgen in het aantal zonnepanelen per inwoner in elke gemeente. De locaties van zonnepanelen zijn met behulp van deep learning (artificial intelligence) en openbare luchtfoto's (0.25m resolutie) gedetecteerd. Doordat we de zonnepanelen nauwkeurig segmenteren kan het oppervlakte van zonnepanelen op adresniveau worden bepaald.
About this dataset:
Overview of solar panels (vector) in your entire municipality, province or throughout the Netherlands.

Direct insight into panel areas per address, neighborhood or district by linking to BGT, BAG or CBS data.

Based on open data (0.25m resolution).

Possibility of monitoring through (historical) data.

Possibility to enrich the dataset with annual energy yield at address, neighborhood or district level.